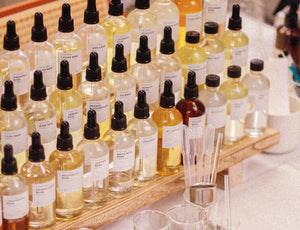 The Sniff Studio offers a wide selection of imported finest fragrances. Soy wax products are exclusively formulated to give the best scent throw (both cold and hot) to distinguish ourselves from our other counterparts.
Aromatherapy Oil Blend
Blended with pure essential oils for their therapeutic benefits, these scents give a sense of luxury and indulgence.
Dear Rosie - Rose, Chamomile, Rosewood
Bed·gamot - Lavender, Bergamot, Clary Sage, Marjoram
In the Woods - Sandalwood, Petitgrain, Cedarwood, Neroli
Lemon & Eucalyptus - Lemon, Eucalyptus
Fragrance Oil
Imported ONLY. Pet-Friendly. Comply with IFRA(International Fragrance Association) standards.
Magnolia Rose 木蘭玫瑰 - Magnolia, Rose, Oak, White Amber, Honey
Amber Lily 琥珀百合 - Amber, Lily, Fig, Black Currant, Tobacco
Earl Grey Cucumber 伯爵茶小黃瓜 - Earl Grey Tea, Cucumber, Patchouli
Lychee Tea 荔枝茶 - Lychee, Green Tea, Musk, Lemon, Muguet
White Fig 無花果 - Fig Leaves, White Cedar, Bergamot
Midnight Rain 午夜雨 - Marine, Sandalwood, Cedarwood, Freesia, Pepper
Tiramisu 咖啡 - Roasted Coffee Bean, Vanilla
Clean Cotton 純淨棉花 - Sundried Cotton, Bergamot, Musk